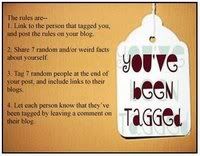 I have been tagged by the very talented
Caroline
. I am honoured as I love her cards - in fact, so much so that I've copied and pasted a few of her designs onto a sheet as inspiration for my Christmas cards this year!!!
I have to share 7 random or weird facts about myself - then tag 7 people & let them know they have been tagged!
So, seven new weird and wonderful facts about myself........
1. I hate bananas - hate the smell, hate the texture and the taste - yet, I seem to be able to cope with artificial banana flavourings - and I love Pisang Ambon!!!
2. I make a mean curry - it's so good, that squaddies want to eat it!! (Not just random ones, DH is in the army!!!)
3. I worked as a teaching assistant in a German Hauptschule (like a comprehensive) teaching English for 10 months as part of my German Degree course. It confirmed my thoughts that I didn't want to be a teacher!!! It was very hard work, with a classroom of 30% Turkish kids who didn't even speak German, let alone English!! (Teaching the 6-8 year olds was good fun though, especially playing Bingo!)
4. My favourite cocktail is Pina Colada - although I'm up for trying new ones!!!
5. I'm a sports addict - but only as a spectator! I love watching football, rugby, tennis, ice skating, athletics, cricket - but have only watched rugby live. I'd love to go and watch my beloved Spurs play at White Hart Lane (especially if it was the day we beat Arsenal!!)
6. I worked in a jewellery shop between finishing uni and getting married, so I'm quite good at identifying semi-precious stones (we didn't do gemstones!).
7. I collect Denby Greenwich - but hardly ever use it!! It's for special occasions, don't you know!
So, there are my seven facts and here are the seven people I'm tagging: