I meant to post this the other week, but forgot I'd saved it as a draft!
Anyway, this is the wedding card that I made for my in-laws to send to Orla, the family friend. I decided to make a more traditional style card for them to send, and decided to go for a very simple colour combination of white and pink.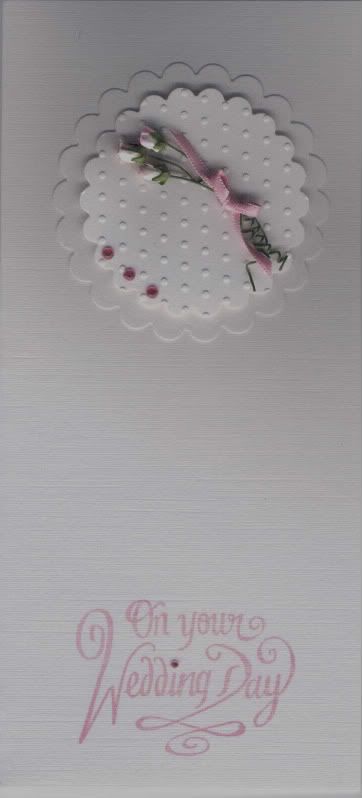 A card blank was created from white linen card and two scalloped circles were cut from the same cardstock using scalloped circle Nestability dies. The larger of the two circles was embossed using the Cuttlebug Swiss Dots embossing folder and the two circles were attached to the card blank, one on top of the other.
Three mini paper rosebuds were tied together with narrow pink satin ribbon using a bowmaker, and attached to the circles using silicon glue.
Three pink mini faux gems were attached to the lower edge of the smaller circle.
The sentiment, an Anita's rubber stamp, was stamped directly onto the card blank using ColorBox Dusky Rose pigment ink, and a small pink faux gem was adhered above the 'i'.
I like the simplicity of this card, and apart from the bow, it was very easy to create!! It's just a shame it hasn't scanned in very well due to the 3D nature of the card. It looks a bit grey and shadowy, but I can assure you it was bright white!