This is my entry to this week's
Sketch and Stash blog challenge
(
#18
). This is another of the NEW blog challenges that I discovered the other day and I love the idea behind this one.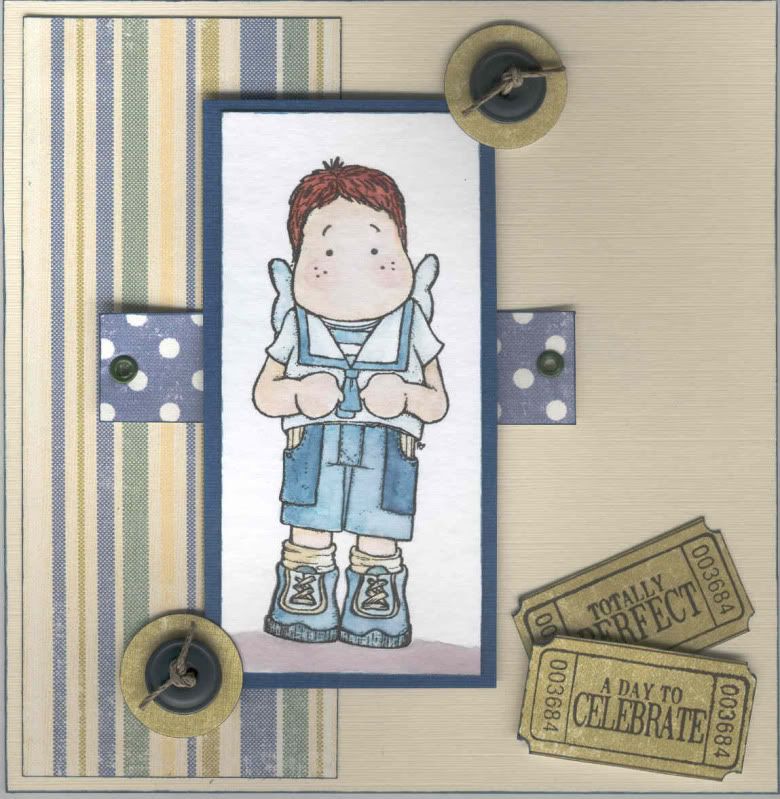 The idea is to use something new and something that's been neglected from your stash. Well, I'm sure we've all got LOADS of neglected items, especially those ones we had to have but once Mr Postie brought them we had no idea how to use them!!!
Well, the sketch looked like this:
My new item is actually the papers, which are from the Making Memories Fresh Anthology Sydney paper pad. I bought these the other week, and was inspired to buy these (amongst others) by my visit to
Julie
's. The one I was looking for was the Ruby pad, but saw these and had to get them as well.
My neglected items are the buttons (that I bought about 4 years ago).
The Edwin stamp and the ticket stamps are also slightly neglected as this is the first time I've used the Edwin stamp that I bought months ago, and the ticket stamps that I haven't used as much as I should have!!
Anyway, the Sailor Edwin image from Magnolia was stamped using Versafine Onyx Black archival pigment ink and watercoloured using Whispers Brushstrokes markers and was then matted onto blue cardstock.
A panel of the blue stripe paper from the Sydney paper pad was attached to the left of the card blank. Two small green eyelets were set in a strip of the blue polka dot paper and attached across the centre of the card. The Edwin image was then layered over the patterned paper.
Green hemp cord (that I bought in Hobbycraft if you're interested) was threaded through two green buttons and layered onto the green brocade paper from the Sydney paper pad and added at the corners of the Edwin image.
Two of the stamps from the Autumn Leaves Ticketed stamp set were stamped using the Onyx Black ink on the green brocade paper. Holes were punched at the corners of each of the tickets using the Big Bite and then cut up. To see the tutorial on doing this from
Aud Designs
, click
here
. It's very clever.
I also decorated the inside of the card using strips of the patterned papers used on the front of the card and the Happy Birthday sentiment was taken from the Papermania Clare Curd Sentiments stamp set using the Onyx Black ink. Faux stitch doodling was added around the panel of paper to emphasize the edges.