Whilst 'blurfing' over on Tara's blog
Happily Ever Crafting
, I saw some links to some new challenge blogs (well, new to me, anyway). I've added links to them on my sidebar if you're interested.
One of the blogs,
Stampin' For The Weekend,
has a challenge to make an
'Anything Baby'
card. It was then that I realized that I had never uploaded the New Baby Girl card I made for my cousin and his wifewhen their baby Evie Grace was born. I figured it was perfect for the challenge.
So, here's the card I made: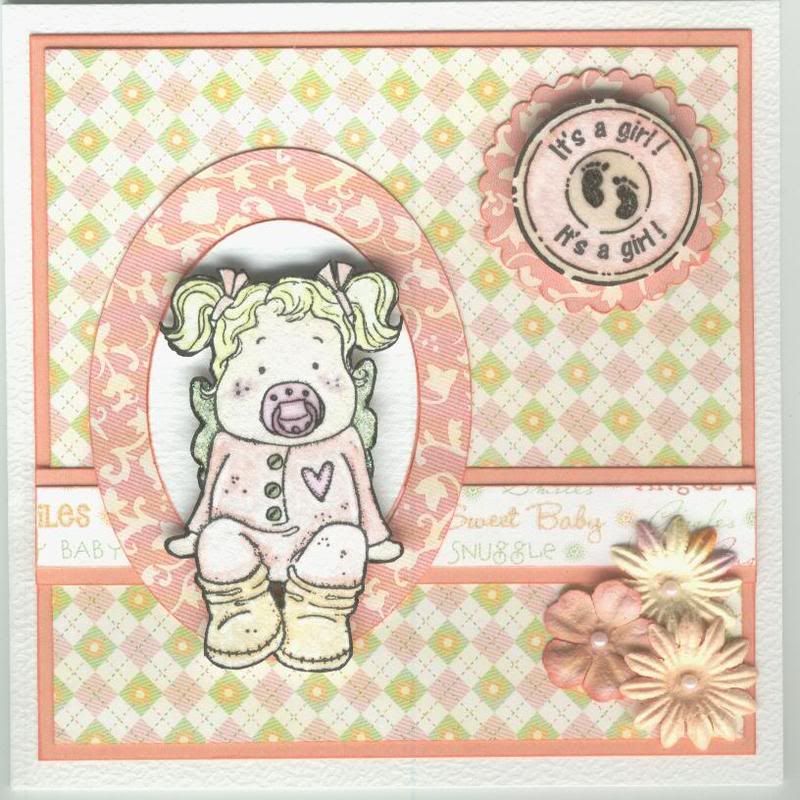 The image is one that I stamped during my trip down to West Sussex last November down at
Alex's
.
Baby Tingla was watercoloured using Whispers Brushstroke markers, cut out and highlighted with Sakura clear gel pen and Craft Planet Green glitter glue.
The 'It's A Girl' circle sentiment from Aud Designs was stamped and watercoloured using the Whispers Brushstroke markers and highlighted using Sakura clear glaze pen.
The patterned papers are from the DCWV Nana's Nursery It's A Girl paper stack and were matted onto coral card.
Ovals were cut from matching paper and white card using the Fiskars Shapecutter, and the scalloped circle was cut using PI scallop decorative scissors.
Paper Prima flowers were attached in the bottom right hand corner and self-adhesive pearls were added in their centres. I changed the colour of one of the flowers by colouring the petal tips and the centre with Whispers Brushstroke markers and then flooding each petal with water to make the pigments run. Once dry, the petals were re-shaped using an embossing tool and one of the mini purple stamping mats from See D.