I have returned. I have just spent three very cold wintry weeks in beautiful Dublin - at least I believe it's beautiful from my previous visits as I didn't actually see any of it this time round.
I've never known such cold weather - and if you thought the British councils were slow off the mark, get this. There were no gritters sent out on New Year's Eve before the first of the January snowfalls, and then they were knocked off for a few days' holiday. When we left on Thursday morning, the roads still hadn't been gritted and cars were skating like Todd Carty on a bad day! It took us over 90 minutes to do a 25 minute trip! When we got back to the UK, we didn't drive on a road with any snow or ice on it, until we reached the last half mile of our journey, the housing estate!
Anyway, I write this from my hibernation chamber where I will be spending the next couple of weeks by the looks of things. I'm definitely not a cold weather person! And, to top it all, the radiator doesn't seem to be working in our bedroom so we'll have to call someone out to have a look at it - and what's the betting they don't come out til the weather warms up - like August!
So, back to all things crafty! Here is a card I made a while back now, using a beautiful image that I got from Jackie/mp3mills in the July 2008 image swap over on
docrafts
. This was created for a very good friend that I made when I lived in Germany shortly after I got married. Hazel was very good to me and managed to get me an interview for a really good (if not well-paid) job where I was able to use my then recently acquired German degree. Eleven years on, we still keep in touch. I can't believe it's been that long!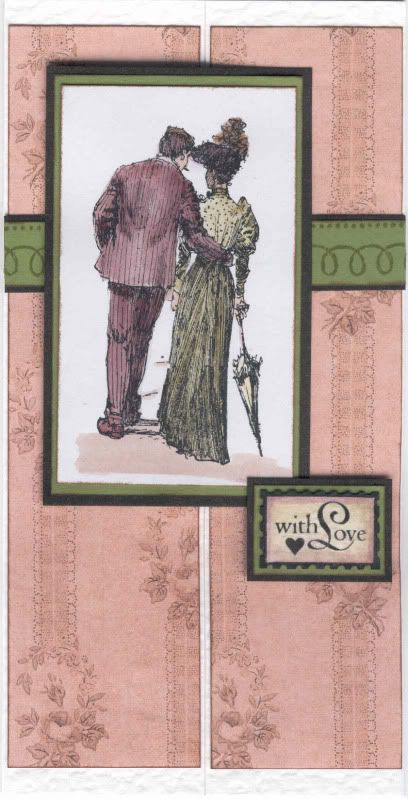 Firstly, a gatefold card was created from white hammer card and covered using the pink blossom lace paper from the Papermania Regency Signature paper pad. These papers are really very elegant and suit the image very well.
A strip of green card was matted onto brown card, stamped using the Studio G border stamps and attached either side of the centre join.
The image, Strolling Couple from Inkadinkado, was watercoloured using the Whispers Brushstroke markers. This was matted onto green and brown cardstock and attached over the centre of the card.
The 'With Love' sentiment, from the All Night Media Brenda Walton Romanza Labels and Tags stamp set, was stamped using the Versafine Onyx Black ink and colour tinted using the Whispers Brushstroke markers. This panel was attached to the right-hand side of the card, and the image was tucked behind it to keep the card closed.