Well, I have now returned from my recent stay in the Midlands where I attended my cousin Judith's wedding on what could possibly be the hottest day of the century!!!
She looked absolutely beautiful and when I manage to find my card reader, I will endeavour to upload a few photos from the day.
There could have been the possibility of me not having any photos as I managed to leave my camera complete with the two memory cards under the table at a pub quiz. Thankfully, there are some decent people left in this world and my camera was still there when I spoke to the cleaner the next morning!! Needless to say, I didn't have a very good night's sleep that night!!
A good time was had by all, especially at the end of the night when it was time to dispense with the helium balloons (believe me, listening to a bride singing 'We're off to see the wizard' a few octaves higher than it should be is very amusing!! - but should not be attempted by anyone without medical advice first!!)
I stayed on for a week after the wedding to spend time with all my cousins as I don't get to see them as often as I'd like, and the only down side to the whole stay was that I managed to come home with Judith's wedding photos as she'd put them in a bag and hung them on the coat hooks out of harm's way - exactly where I'd hung my identical bag!!!! Now we're going to have to meet up half way so I can return the photos and she can deliver my notebook!!
I have, however, uploaded the card that I made for her special day. She seemed to like it!! I made it using the
Victorian Heart Trio Medallion
stamp by Holly House stamps and the papers are from the
HOTP Wedding
paper pad and
Papermania Elegant vellums
.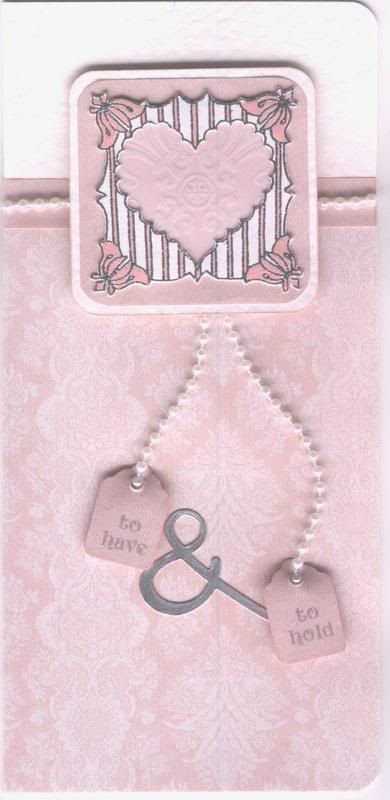 The tags were printed onto small tags from Word and the ampersand was created using the Ellison Curlie Girlie Thin Cuts die set and cut from Craft Planet Silver Satin cardstock.

Now, I've got to get back into my craft room as I've got a couple of image swaps to complete and a few cards to make. Will upload them for you when they are done.