Finally I can upload this card! I've been wanting to upload this for a couple of weeks now, but restrained myself as I didn't want the recipient (Jules B) to get a glimpse of it before her birthday. But, I know she's received it now, so I can put it on my blog!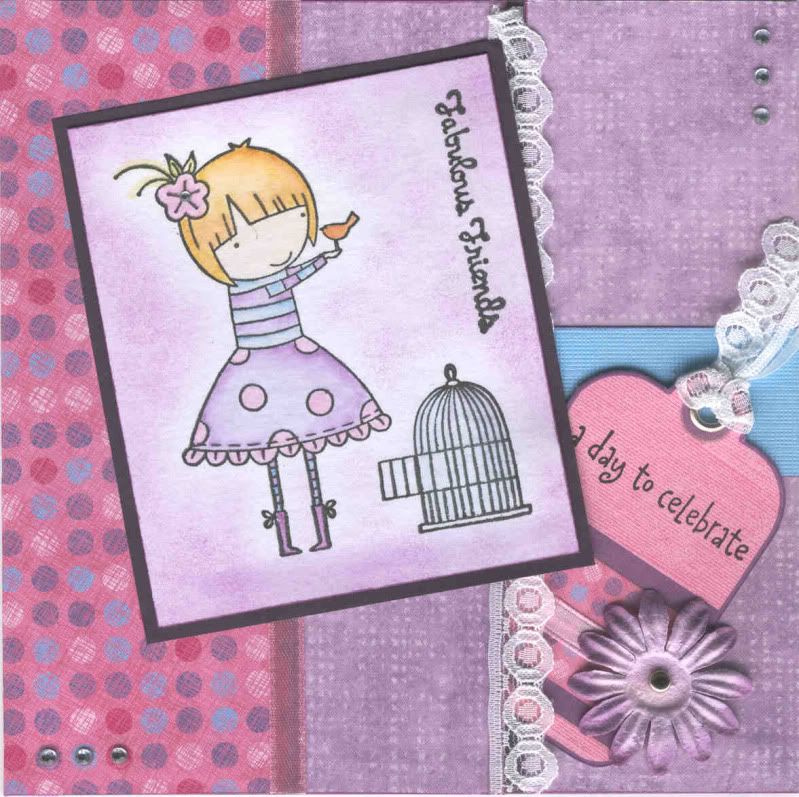 The card was made using one of my newest acquisitions - one of the lovely Leanne Ellis stamps called 'Fly Free' fron the Sugar Nellie family, available from
Funky Kits
.
I started by creating an off-centre gatefold 6" square card made from plum card. The flaps were covered with a combination of pink multi spots paper and purple mesh paper, both from the HOTP Citrus Cardmaker's Creative Pack. A strip of sky blue card from the DCWV Brights Card Stack was added across the right-hand flap.
A length of Anita's self-adhesive satin ribbon was added to hide the join of the two papers on the left-hand flap, and a length of narrow white lace was added down the edge of the left-hand flap.
The 'Fly Free' image was stamped using the Versafine Onyx Black archival pigment ink and watercoloured using the Whispers Brushstroke markers. The background colour, Whispers Rich Plum permanent dye ink, was added by sponging around the image.
A clear faux gem was added to the centre of the flower in her hair.
The sentiment 'Fabulous Friends', from the Smirk Love and Friendship stamp set, was stamped onto the image panel using the Onyx Black ink, and the panel was matted onto dark plum paper.
A tag was cut from the HOTP Citrus Cardmaker's Creative pack and a large silver eyelet set at the top. A piece of the lace was threaded through the eyelet, and a strip of the pink self-adhesive ribbon was attached across the tag, with a Prima paper flower attached to the edge of the tag with a small silver brad. The sentiment 'A Day To Celebrate', from the Hero Arts Birthday Messages stamp set, was stamped across the top of the tag using the Onyx Black ink.
The tag was backed with the dark plum paper so that it looked better when the card was opened. The image panel was attached at an angle to the left-hand flap, and the tag to the right-hand flap. Clear faux gems were adhered in rows of three to the top right and the bottom left corners.
A 'handmade by' panel was created for the reverse of the card using paper and card used on the front of the card, the Sizzlit Elegant Embellishments die, standard and scalloped circle Nesties and a strip of the narrow white lace used on the front.