So, I have decided it is high time I posted something on my blog. This is actually a card I made a while back but as I'd sort of already written it up, it'll be easier for me to post.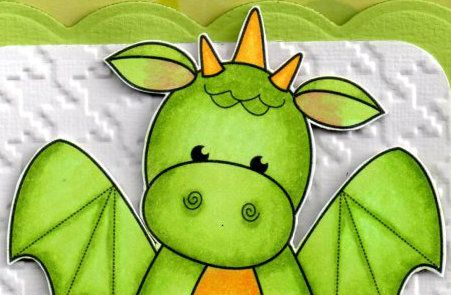 So, this is a card I was particularly pleased with from last year. It is a first birthday card I made for the son of some friends of ours. He is a lovely little boy and always so cheerful. I've only ever known him to grizzle once and only seen him cry once too (and that was only because he was hungry!)
Anyway, here is the card: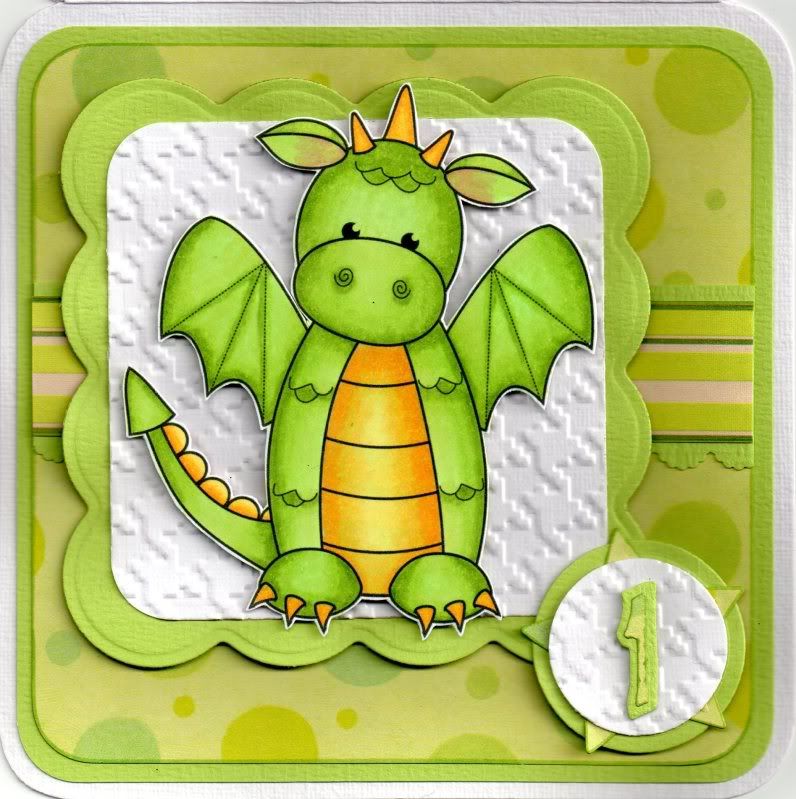 The image is a digi image called
Dillon
by
Janet Roberts
at
Pink Gem Designs
. It's a lovely image and I think I got it when she offered it as a freebie but you can now buy it
here
.
The digi image was coloured using Copic markers:
YG03, YG11, YG13, YG17, Y13, Y15, Y17, R02
The image was then closely cut out.
A strip of green stripe paper from the K&Co Amy Butler Belle paper pad was matted onto a strip of lime green card punched using the EK Success Scalloped Scallop border punch. This was then matted onto a panel of the green spots paper from the K&Co Tim Coffey Birthday paper pad, and also matted onto the lime green card.
Another panel of the green card was then die cut using the Big Scalloped Square Nestabilities die, and a panel of white hessian card (also used for the card blank) was embossed using the Cuttlebug Houndstooth embossing folder.
The Dillon image was then mounted onto the embossed panel using 3D foam.
To create the number 'badge', the number and shadow were cut from the spot paper and the green card using the '1' die from the Sizzix Bounce alphabet sizzlets die set. These were in turn matted onto a circle of embossed card, a star die cut from the spots paper using an XCut die and a circle of the green card.
I was really pleased with the way the image looked after I'd coloured it so hopefully Zack and his mum and dad liked it too!!!
I would like to enter this card into the following challenges:
Brown Sugar
-
#67 - Anything Goes
Creative Corner
-
Sing, Sing A Song
Jo's Scrap Shack

-

Things With Wings
Pattie's Creations

-

#79 - Birthdays
Sister Act Card Challenge

-

#32 - Anything Goes
Stampin With The Dragon

-

Dragons
Crafty Girls

-

#5 - Anything Goes
Milk Coffee

-

Fairytales

(WINNER)
Seize The Birthday

-

Birthday + Texture
Divas By Design

-

Use A Digi
Inklings and Yarns

-

#35 - Anything Goes
Inky Impressions

-

#133 - Dies and Punches
Bearly Mine

-

#111 - Anything Goes
Crafty Sentiments Designs

-

For The Guys
Our Daily Bread Designs - #177 - Inspired By A Song (Puff The Magic Dragon)
Paperminutes - #294 - Movie/Cinema (Puff The Magic Dragon)
Papertake Weekly - Anything Goes
Through The Craft Room Door - Nov 5-11 - Anything Goes
Card Mania - #33 - Anything Goes
Craftin Desert Divas - #18 - Anything Goes
Love To Scrap - #17 - Anything Goes
Make It Monday - #165 - Anything Goes
My Craft Creations - 4-16/11 - Anything Goes (WINNER)
Scrapbook Stamp Society - #26 - Anything Goes
The Paper Nest Dolls - #16 - Anything Goes
613 Avenue Create - #44 - Anything Goes
Hobbycutz - #23 - Inspired By A Song/Music (Puff The Magic Dragon)
Pile It On - #44 - Animals With Character
The Squirrel and the Fox - #56 - Animal Antics
Cards Galore - Animals
Doodle Pantry - #40 - Any Digi Goes
Natalie and Amy - #14 - For The Boys
Seemacrafts - Bright and Colourful
Catch The Bug - Anything Goes
Whimsy Stamps
-
#65 - Anything Goes
Goodness, I'd forgotten just how time consuming this is!!!! It's taken me about 3 hours to go through all those challenges!!!!