So, here we are again with one of my older cards. This one is from 2011.
I bought this set of papers and stamps when they first came out, full of great ideas. They are the Papermania Birdsong papers. Of course, as soon as I got them home, all ideas fled from my mind and they've been sat in various boxes every since!!!
The patterned paper was chosen firstly and the image stamped to match. The Floral Bird Tree stamp, from the Papermania Birdsong Blossom stamp set, was stamped using Memento Tangelo dye ink and coloured using Copic sketch markers:
Tree/Leaves/Bird 1: YR00, YR02

Bird 2: BG11, BG45, BG49

Flowers: YR00, YR02, BG11, BG45, BG49

The image was then die cut using a Nestabilities Octagon die and the Tangelo ink was lightly applied through the die, leaving the white edge. A larger pale orange octagon was also die cut and the edges stamped using the Floral Flourish stamp from the Papermania Birdsong stamp set with ColorBox Aqua pigment ink. These were then matted onto a dark orange scalloped octagon die cut.
A strip of the dark orange card was punched with the XCut Lace Trim border punch and a strip of turquoise floral swirl paper from the Papermania Songbird paper pad was added across it, as was a length of teal seam binding. A bow was created from the teal seam binding with a bowmaker and attached over the length using a glue dot. This wasn't as successful as I'd hoped though as the knot wouldn't lie flat!!
The paper strip was then attached across the card blank and the image panel added to the left of the card blank.
The sentiment, from the Papermania Birdsong Blossom stamp set, was stamped in the bottom right corner using the Tangelo ink, as was the Floral Flourish in the other corners.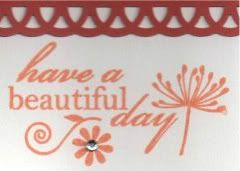 Clear faux gems were added to the main image and to the sentiment.