I've been 'blurfing' a bit and come across some more blog candy. I'll post them individually to avoid confusion (more on my part than anyone else's!!)
Here is
Jacqui's blog candy
- a lovely selection of stamps, papers, embellishments and Nestabilities. Pop over to
Jacqui's blog
to see her lovely creations, especially the way she decorates the inside of her cards.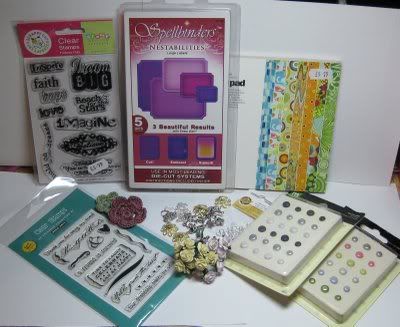 What you will actually get is:
2 sets of sentiment Stamps
2 bunches of minature roses (white and mauve)
2 packets of Sparkle Brads
Various Charms
Jump Rings
Chain
Nestabilities Labels
Basic Grey Lime Ricky Pad
Crochet Flowers
The candy will stay open until the 15th May, and the winner will be drawn by Random Number Generator on the 16th May.
To be in with a chance of winning, just post a link back to the candy on your blog and leave a comment on the blog candy post. Please leave the number of your comment when you link your blog in the comment form, which can be found at the top of the comment form.
EDIT:
This blog candy has been extended until Wednesday 20th May, as Jacqui's computer is on the blink!!!