This is the card I made for my in-laws to send to my hubby's aunt and uncle for their golden wedding anniversary in June.
I was a bit stumped at first as I was asked to make a flowery card, and after a look through my stamps, I couldn't find anything that inspired me. I did a bit of a google search and found a bit of inspiration in the following places:
I started by creating a square cream card blank and rounded the corners of it using the large XCut corner rounder punch.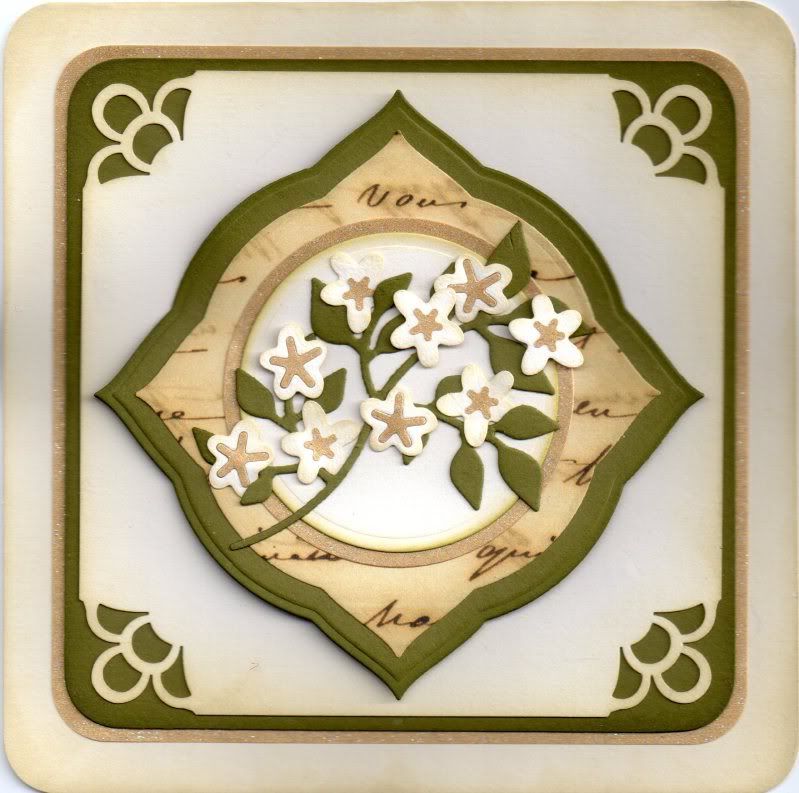 I then created panels from the gold glitter paper and the olive green card, and rounded the corners of those.
A panel of the cream card was then created and the corners of this were punched using the Martha Stewart Double Loop corner punch.
To create the topper, panels were cut using the Labels 3 Nestabilities dies from the green card and the script paper from the K&Co Life's Journey Map paper pad. Circles were then cut using the Nestabilities dies from the gold glitter paper and the cream card.
Using the Sizzix Medium Flowers and Branch die and Branch with Leaves die, flowers were cut from the cream card and gold glitter paper and the branch cut from the green card. I added the gold flower centres to the flowers, and added half flat to the card and half raised up on 3D foam. I added some of the flowers tucked behind the leaves to add dimension and a more realistic look.
All of the pieces were distressed with either the Tim Holtz Antique Linen or Peeled Paint distress ink using Cut 'n' Dry foam.
I decided to keep the inside of the card simple and in line with the front of the card, so panels were cut using the Label 3 die, with the sentiment being computer generated. Again, the panels were distressed with the Tim Holtz distress inks.
I hope that this is what my in-laws were thinking of when they requested a floral golden wedding anniversary card. Just got to come up with a design for a card that we can send now!!!