Here are the cards I made this year as the two Father's Day cards for my dad and my father-in-law.
As always, I made two similar but different cards. They both use the same papers but different Celtic knot stamps to distinguish themselves from one another.
I am entering these cards into the following challenges this week:
The square Celtic knot image, from a boxed set of Celtic stamps I bought a few years back at a gift shop in Avebury by the stone circles, was stamped onto olive green card using Versacolor Black pigment ink and heat embossed with Heat It Up! copper embossing powder. The images were then cut out using standard square Nesties and matted onto larger squares of russet coloured paper.
A panel of the green mesh paper from the Papermania Hampstead paper pack was matted onto the russet paper and large copper eyelets were set in the corners. A strip of the russet geometric paper, also from the Hampstead paper pack, was punched using the Fiskars Rope border punch along both edges and matted onto the green panel.
Double lengths of green hemp cord were threaded through the eyelets and the stamped images were adhered centrally to the panel.
The sentiment was stamped using the 'Happy Father's Day' stamp by Personal Impressions from the Craft Stamper magazine and the black pigment ink and copper heat embossed. The individual words were cut from the image and matted onto the green card and russet paper. Holes were punched either end of each word panel and the green hemp cord threaded through. Each word was adhered to the front of the card below the Celtic knot panels.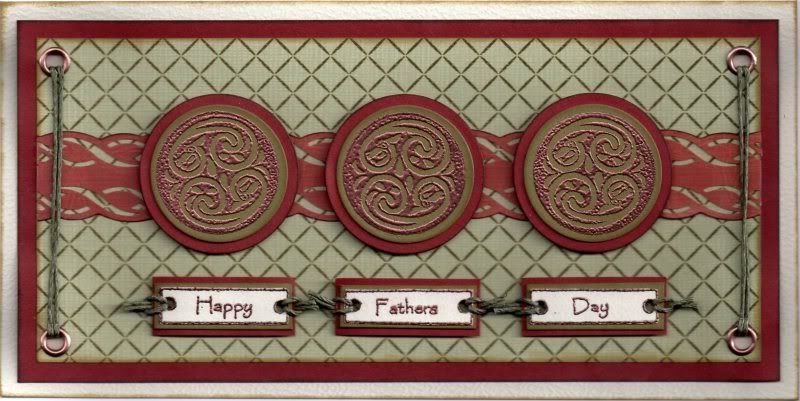 The second card was constructed in exactly the same way but a circular dragon Celtic knot stamp was used for the focal images.