I meant to post this on Sunday but I had great problems with my Internet connection, and then I've just not had a chance to sit down and get on with it since.
Anyway, I'm talking about last Saturday - although the day actually started on the Friday as I didn't sleep at all on Friday night (believe me, this took its toll later on in the day!!)
I was up at 5.45am (I didn't realize there WERE two 5.45's in the day!), showered, dressed and in the car and heading for Newbury train station by 6.45am. I was on my first train at 7.05am and on my way to West Sussex. I only had one problem with the trains -probably due to the wrong sort of rain on the line, so missed my connection at Redhill, but thankfully I eventually arrived at Haywards Heath just 30 minutes later than anticipated.
There I was met by the lovely
Alex
(I sort of recognized her from her blog picture and was hoping I wasn't smiling like a mad person at a complete stranger!!) and from there we headed to the Glitter Pot where we met up with
Julie
and
Sarah
, who had made the trip from London and Surrey respectively. Michelle Saxon was there demonstrating the BIA and the Dreamkuts, and we all took notes as we all wanted to have a play with the BIA later on in the day. Having spent far too much money in The Glitterpot, we then headed off to
Alex
's house for an afternoon of crafting.
We all decided to get lunch out of the way, but not before some great gifts were exchanged.
Alex
gave us all some wonderful hand-made goody bags, each containing a lovely calendar, some stamped images from the new Magnolia Christmas collection, and some beautiful papers.
Julie
had made us all a lovely book of papers, made with her BIA,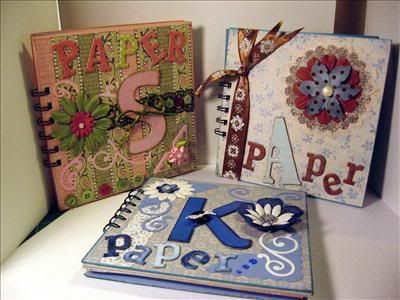 here is the book she gave to me:
and
Sarah
gave us all a box of Belgian Praline chocolates (one of my favourites!)
After lunch, we decided to make the most of Alex's graphic design background and get her to give us all a crash course on using the Copic Markers. When used properly, the effects really are amazing. The colours are so vibrant and they blend beautifully - but, only when done properly!! I think I'd want to practise a bit more before I committed to spending all that money on them.
After our colouring lesson, we all took advantage of
Alex
's amazing collection of stamps and started stamping some images out. This was accompanied by a delicious Donauwellen cake that Alex had made herself, and reminded me of 'Kaffee and Kuchen' when I lived in Germany. I love all those rich German cakes and this was no exception.
Then, with the exception of
Julie
who made a start on her calendar, we all started to make mini books following the instructions given by Michelle Saxon earlier in the day (although of course there's always one person who manages to mess their design up completely due to not paying attention - stop pointing fingers at me!! :}).
At about 5pm, my eyes started to get very sore and itchy, no doubt a result of the fact that I hadn't slept the night before!!
Unfortunately, the day had to come to an end.
Julie
and
Sarah
bid their farewells at 6pm and headed home. I stayed a bit later as my train wasn't until 7.30pm.
Alex
dropped me off at the train station and we both expressed our hopes that we'd be able to do this all again!! I have to admit I really enjoyed the day and would love to do it all again, but it was a very long and tiring day!!
Thankfully all my trains were on time on the way home. I almost missed getting off the train at Gatwick but realized just in time where I was and managed to jump off. I didn't fall asleep at all on the journey home amazingly, and was picked up from Newbury station by my lovely hubby at 10.20pm.
If I ever manage to sort out my mini book I'll post a picture of it on here for you.