Well, I'm on a bit of a digi stamp roll at the moment. This is one that I won from TiddlyInk in a blog challenge and I think she's really cute. You can find this image
here
on their site.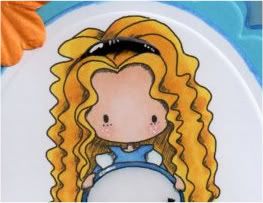 Having printed out the image, it was coloured using Copic markers:
Skin: E00, E21, E51, R20
Hair: Y08, Y17, E36
Dress: B00, B12, B18, B24
Clock: B00, B18, B24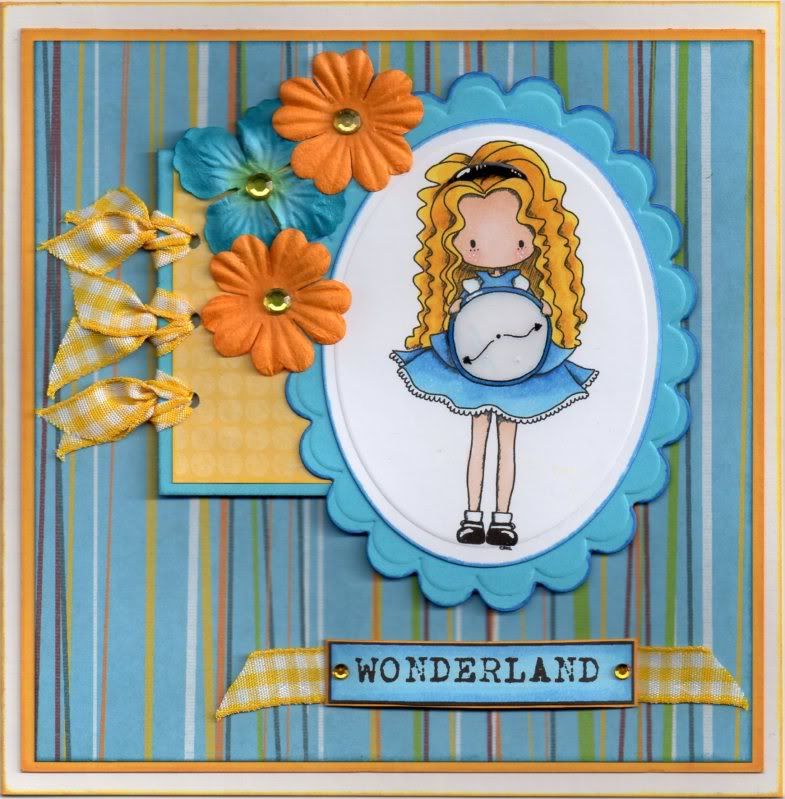 The image was then highlighted with a Papermania Snow White gel pen and Anita's 3D Gloss. Once the gloss was dry, the image was die cut using an oval Nestabilities die and matted onto a blue scalloped oval panel, also die cut using a Nestabilities die.
A panel of the blue stripe paper from the HOTP Dots and Stripes Use 'Em For Anything paper pad (that I received from HOTP for a tip I submitted to their forum) was matted onto yellow card.
A small panel of the yellow circle mesh paper, from the HOTP Ultimate Cardmaker's Creative Pack, was matted onto blue card and three holes were punched along the edge with the Cropadile Big Bite and short lengths of yellow gingham ribbon were tied through the holes. The yellow panel was matted to the left of the image panel and paper flowers were matted over the top.
A computer-generated sentiment was coloured using the Copic markers:
and lengths of the gingham ribbon were added either side of the sentiment.
Faux yellow gems were added to the centres of the flowers and either end of the sentiment.
Here are the challenges that I'm entering this card into: