I really enjoyed making this one!! It's for a friend's little boy. We went to stay with them down in Devon a few weeks back and he was constantly dressing up in super-hero costumes so I knew straight away which image I was going to use on his card.
The Superduper Boy image from Mo's Digital Pencil was coloured using Copic Sketch markers:
Cape: R20, R24, R27, R29, E09, Y00, Y21, Y26
Shorts: R24, R27, R29, Y21, Y26
Gloves/Mask: Y21, Y26
S & Panel: R24, R27, R29, Y21
Boots: R20, R24, R27, R29
Body Suit: B32, B34, B37
Hair: E43, E51, E57
Skin: E00, E21, E51
The image was then cut out.
A strip of the dark blue stars and banners paper from the HOTP Ultimate Cardmaker's Creative Pack was matted onto dark cream card and a panel of red card embossed with the Cuttlebug Herringbone embossing folder.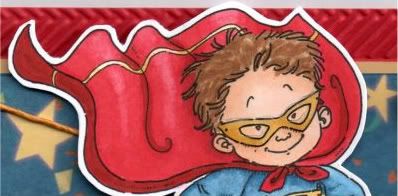 Lengths of yellow hemp cord were wrapped around the panel to form a cross and the panel was adhered to the card blank.
A star was die cut from the cream card using the Sizzix Sizzlit Hearts, Stars and Tags die and the number 4, die cut from red card using the Ellison Curlie Girlie alphabet set, was adhered in the centre of the star. A hole was punched in the top of the star using the Big Bite and was then threaded with more of the hemp cord and tied to the cord across the card.
Three soft white Card Candi from Craftwork Cards were coloured yellow with a Copic marker:
These were then attached in the top right corner of the patterned paper.
Here are the blog challenges I am entering this card into: