This was one of those CAS cards that was by no means 'simple' in its execution. It was based on card I saw on Pinterest
here
.
The first step was to die-cut the Contempo Circle Border die by Memory Box from Kraft card. Getting adhesive on the back was then the first hurdle. I should have added wide double-sided tape to the back of the Kraft card first, but only thought of that afterwards, so I used tacky glue and that was fun!!!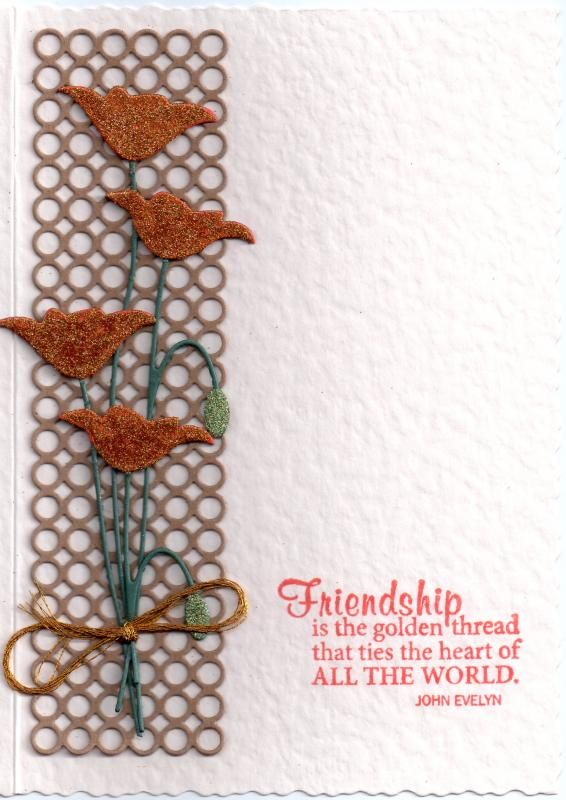 The next step was to diecut a couple of the Memory Box Prim Poppy shapes using dark-green card stock, as well as the flower heads in orange card stock which were then adhered in place.
Then came hurdle number two - adding the glitter. I used the LP Creative Crafts Corn Yellow and Apple Green glitters with the Zig glue pen. Of course, there was glitter everywhere and then I realized I'd added the glitter too early. I should have added it after I had stuck everything down!
Once the glue had dried and the glitter in place, the two poppy die cuts were tied together (not as easy as it sounds) using gold metallic embroidery thread.
The poppy diecuts were then adhered in place over the Contempo Circle Border diecut.
The sentiment, from the Fiskars Friends Forever Quotes stamp set, was stamped directly onto the card front using Memento Morocco dye ink.