The wonderfully talented
Janiel
is celebrating her first blogaversary and is offering some great
blog candy
over on her blog.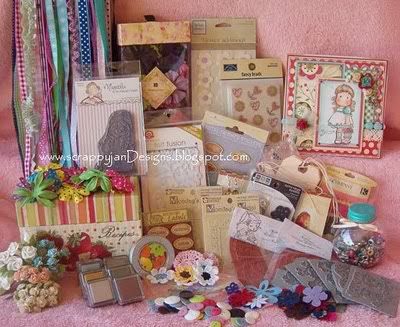 Up for grabs is over $100US of goodies, too much to list in detail, but some of what is available is:

a few items for you alter, buttons. eyelets, Prima roses,Prima roses, ricrac ribbon, chipboard buttons, 58 different ribbons, fancy brads, Heidi Grace flower brads,WE R Memories eyelets, K&Co paper lace, stick pins, memory labels, Monday's Metals, Metal trim labels, felt fusion, tags, rhinestones, felt flowers, crocheted flowers, 6 mini ink pads, the 6 new Mary Hall stamps, 2 WOJ stamps, 1 Magnolia stamp and the THANK YOU CARD that Janiel made for the Magnolia Down Under Challenge. It's an amazing amount of goodies!!!

HOW TO ENTER:

1.Link the candy to your blog. You can add as a post and/or in your sidebar. For this you will get one entry.
2. Leave a comment on the blog candy post here.
3. If you are a follower on Janiel's blog you may enter a second comment to double your chances to win. In your second comment you only need to write *Follower*.
Janiel has very kindly opened up this blog candy o everyone and will post worldwide.

This blog candy will run until 1st May 2010.