Here is my creation to celebrate St. Patrick's Day. Not a day I used to celebrate before I met my dear hubby, who, although born in England, grew up in Dublin and has an Irish grandfather.
(His dad played rugby union for Ireland too!)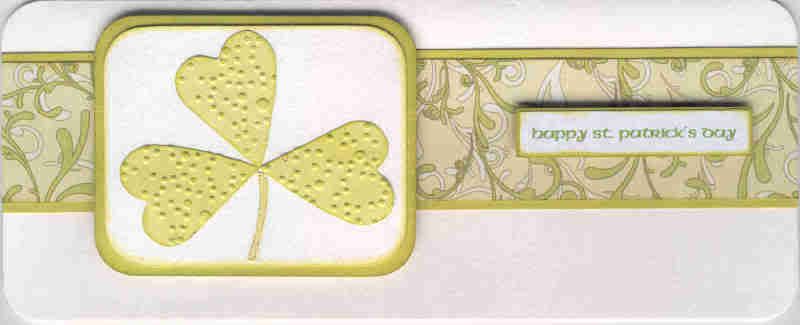 A strip of the green vine paper from the Papermania Spring Burst paper pad was matted onto a strip of lime green card from the Papermania Textured card pack.
Three hearts were cut from green paper from the K&Co Sparkly Sweet paper pad using the Heart, Star and Tag Sizzlet die. These were then embossed using the Ellison Dots embossing folder.
These were attached to a square of white card with a stalk cut from the same green paper. This was also matted onto the lime green card.
The sentiment was computer generated using the Gaelige font and matted onto the lime green card.