I've just remembered - having received the Wylde Women Award from
Tara
and
Sharon
that
Tara
gave me another award way back in July but she gave it to me just before I went away to my cousin's wedding and on holiday, so forgot all about it.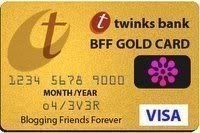 Now, the award is the Blogging Friends Forever award. It means a great deal to receive this award, as it never fails to amaze me how some of your best friends can be people you've never met (and let's face it we're unlikely to ever meet in person unfortunately) and how much of an influence they can have on your life.
Now naturally, I would like to offer the award right back to
Tara
as she is one of the people whose cardmaking has had an amazing influence on my own cardmaking (and my bank balance!!!). Every time I take a look at her blog or in her docrafts gallery I just think 'Wow!' and ' I wish I could make cards like that'. Her endless generosity of self never fails to amaze me either. She's always ready to help people out in one way or another. I just wish I lived near her so we could meet up and have cardmaking sessions. I know I'd learn lots more that way!
Anyway, here are the rules:

1. Only 5 people allowed
2. 4 have to be dedicated followers of your blog
3. One has to be someone new or recently new to your blog and live in another part of the world
4. You must link it back to whoever gave you the award.
Quite simply it is a way of saying thank you to those who take time out for wonderful comments to boost your day.
So, my five nominees for this award are:
Please head over to their blogs and take a peek at their lovely work.