Beth
has some blog candy to celebrate her 200th post. She has some lovely Forever Friends goodies. For some reason I can't copy the picture to put on here but hop over and take a look yourself.
You have until October 5th to enter!
She is a member of the DT for the
Penny Black Saturday Challenge
, and has some wonderful creations on her blog.
There is also some blog candy up for grabs over on
Michelle
's blog. She is celebrating 25,000 hits (wow!) and has put together $50 worth of goodies including 2 sheets of gorgeous donkey stamps from Alota, as well as some flowers and ribbons.
You have until October 8th to enter this one!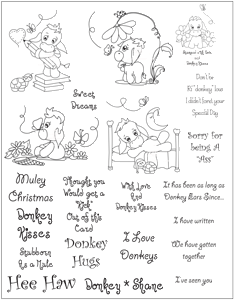 Michelle also has some beautiful cards on her blog so please go and check it out.