Here is my 500th card design!!! I can't believe I've made 500 different designs of cards. No idea how many actual cards I've made as sometimes I've made multiples of the same design (I've made two of this one!).
It's a little bit different to my normal style of cards but this is a lovely stamp and thought it was appropriate for the recipient!!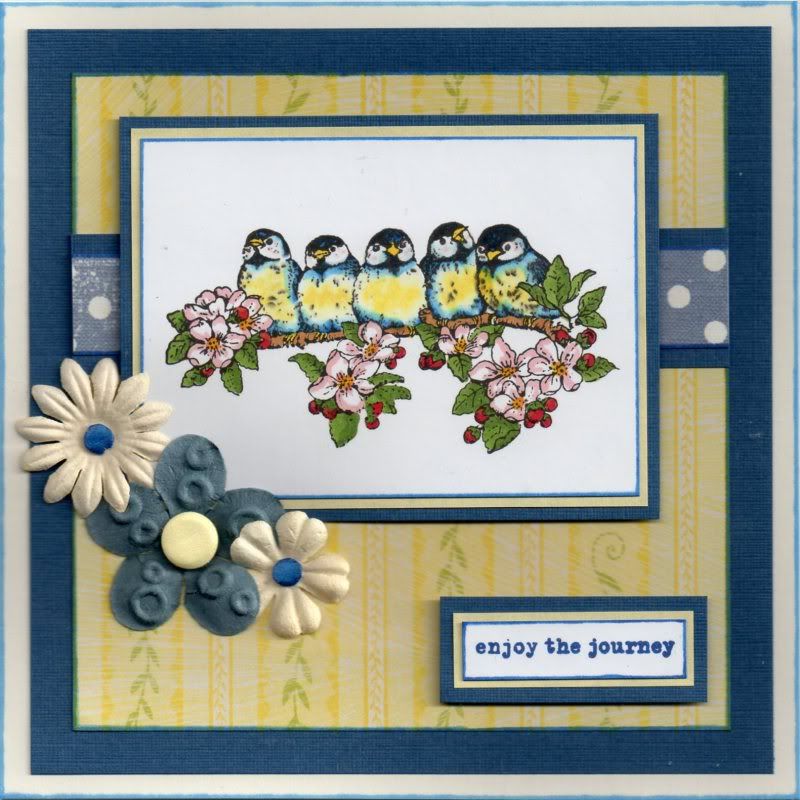 The Bluebirds image, from the Penny Black Enjoy Life stamp set, was stamped using Versafine Onyx Black archival pigment ink and coloured using the Copic Sketch markers:
Birds: B12, B18, B24, Y00, Y08, YR02
Branch: E35
Leaves: YG17, YG67
Berries: E07, R29
Flowers: R20, YR02, Y08
Edges: B18, B24
The image was then matted onto yellow paper and blue card.
A strip of the blue polka dot paper from the Making Memories Fresh Anthology Sydney paper pad was matted onto the blue card and across a panel of the yellow and green vine stripe paper from the K&Co Tim Coffey Daffodil paper pad, also matted onto the blue card. I haven't used these papers for ages, so decided it was time to pull them out again. I'm sure they were feeling just a little bit neglected!!!
The image panel was added over the polka dot stripe panel and Prima paper flowers, from the Prima Botanical Mix, were added over the corner of the image panel and a soft white card candy, from Craftwork Cards, added in the centre of the blue flower and smaller circles were punched from blue card candy for the centres of the smaller cream flowers.
The sentiment, from the Making Memories Express It stamp set, was stamped using Versafine Majestic Blue archival pigment ink and matted onto the yellow paper and blue card and added in the bottom right corner.
Here are the challenges I shall be entering this card into: