This card has been shamelessly copied from one made by
Katy Fox
in the June 2010 issue of
Craft Stamper
magazine. I've used different papers and swirl stamps but the card looks very similar to the one that Katy made.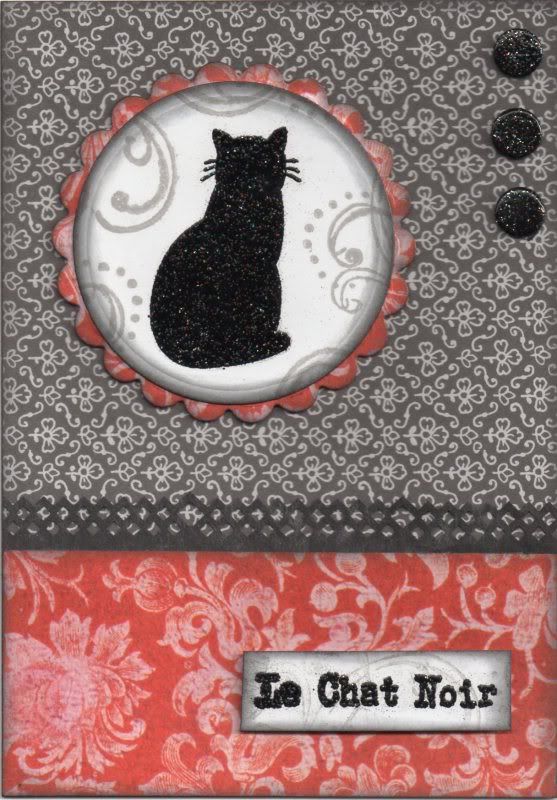 The cat image, the free stamp from
Craft Stamper magazine
designed by the team at Katzelkraft, was stamped onto white card using Versacolor Black ink and heat embossed using Heat It Up! Black Sparkle embossing powder.
The image was then die cut using a standard circle Nestabilities die, and a swirl image, from the Autumn Leaves Rhona Farrer Flourishes v1 stamp set, was stamped around the edge of the circle using Versafine Smokey Gray archival pigment ink. The edges of the panel were then distressed using Tim Holtz Black Soot distress ink.
This was then matted onto a scalloped circle die cut from the Red Cabbage Rose Flourish paper from the Papermania Red Hot Capsule Collection pack, also distressed with the Black Soot ink.
The card blank was partly covered with a panel of the Black Clover Leaf paper, from the Papermania Monochrome Capsule Collection pack. A strip of black paper was punched using the XCut Diamond border punch and adhered to the reverse of a panel of the same red paper used for the scalloped circle and adhered below the black patterned paper.
The sentiment, the accompanying stamp to the cat image, was stamped using the Versacolor Black ink and heat embossed with the black sparkle powder. This was also overstamped with the swirl stamp and the Smokey Gray ink and distressed with the Black Soot ink.
Three black card candy, from Craftwork Cards, were heat embossed with the black sparkle powder and placed in the top right corner.
TIP:
To heat emboss the card candy, I found the easiest way to do it is to add a small piece of double sided tape to the end of a pencil (preferably not painted) and press the card candy onto it. Tap the card candy into the inkpad you wish to use until the candy is covered in the ink than dip the candy into the embossing powder.
Tap off the excess embossing powder and heat, turning the pencil as the embossing powder starts to melt. Once the embossing powder has all melted, leave to cool for a few seconds then remove from the pencil - the heat will have softened the tape a little, making it easy to peel away. You can then re-use the tape if you need to do multiple card candy pieces.