My latest project has been a birthday card for a little boy. He's the son of a friend over in Melbourne (I've never met him and I think I was about 3&1/2 last time I saw Simone his mum - we were born in the same hospital on the same day. My mum and her mum became firm friends and are still in touch today. Simone and I started writing to each other when I was about 10 (when I had about 10 other penfriends all over Europe), and she used to send me clippings of what was going to happen in Neighbours before it was on the screens over here!! And of course magazine clippings of Jason Donovan - what more could I have asked for???
Anyway, we are both happily married now and she is a mother to two children, a boy and a girl.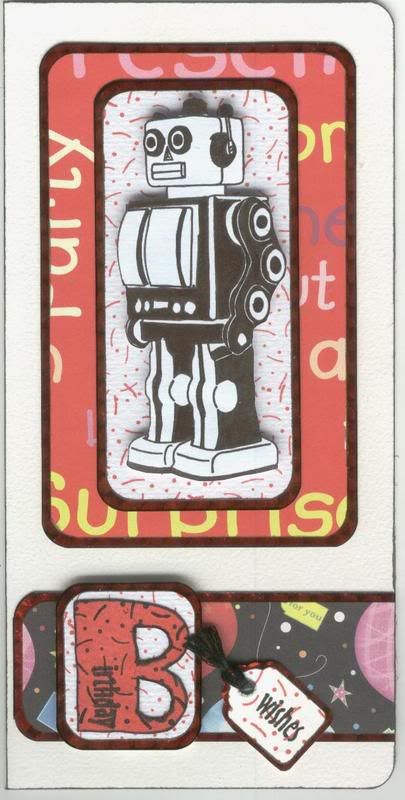 I decided to use one of the stamped images I got in the June
docrafts
image swap that I did with April83/Melanie. The image is the Papermania Robot and I have cut it out. A backing panel was cut and stamped using a stamp from the See D's Mini Deco Backgrounds set.
This and the backing papers from the Dovecraft Birthday Designer Paper pack were matted onto red holographic card.
The letter B from the Papermania Quirky Alphabet foam stamp set was inked using Whispers Cherry Red Permanent Dye ink, and outlined using a black Whispers Brushstroke marker. The 'birthday' text was stamped using a stamp from the HOTP Sentiments set and Brilliance Graphite Black pigment ink, as well as the Mini Deco Background stamp.
The ready-made tag was stamped in a similar way and both were matted onto red holographic card. The hole was repunched in the tag and black embroidery threads were attached.