My friend asked me if I could make her a couple of cards and I jumped at the chance.
She wanted a 'Hen Party' card and a wedding card with a Winter Wonderland theme, with a colour scheme of white, silver and teal.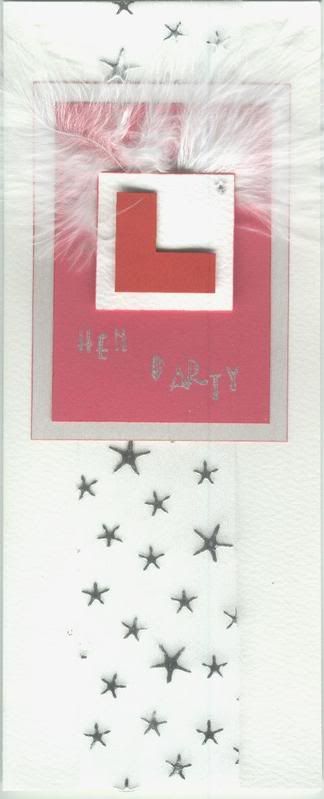 The Hen Party card was easy enough - a learner plate, some marabou feathers, some decorative ribbon and a crystal star gem.
I cut the letter 'L' from some read card and mounted it onto white card and added a Papermania crystal star gem to the corner.
A rectangle of cerise card was matted onto silver Constellation Shantung card, and a couple of white marabou feathers were attached below the letter panel.
The words 'Hen Party' were stamped below the letter panel using a set of the Studio G mini alphabet stamps and the Brilliance Starlight Silver ink.
A length of decorative ribbon was attached down the middle of a small tall card blank and the panel was attached over the top.
The wedding card was another story. I was trying to decide on a style and decided to adapt the design of the Summery Tilda card.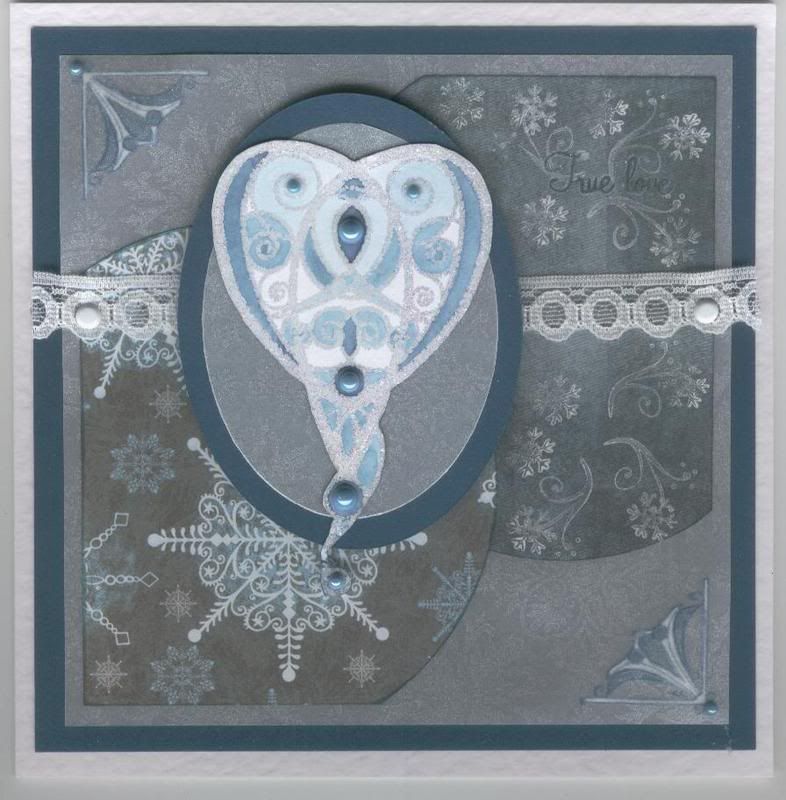 The Papermania Decorative Heart image was stamped in Metallic Silver Ink It Up! pigment ink and embossed using Personal Impressions Turquoise Sparkle embossing powder. This was cut out and watercoloured using Whispers Brushstroke markers. The image was then attached onto layered ovals cut out from teal card and Anita's Classic Silver Christmas vellum.
Two corners of a matching sheet of the vellum were stamped using one of the small Docrafts Ornate Corner stamps and ColorBox Prussian Blue Fluid Chalk ink, and embossed using clear powder. The corners were then coloured from the reverse using a metallic permanent pen and a white souffle pen.
A patterned paper from the HOTP Earth's Palette Creative paper pack was cut using the Fiskars Shapecutter and circle template. This was then stamped using the small flourish morsel stamp from the See D's Connectors Collection set, and a small snowflake stamp from the HOTP Snowflake set of stamps. These were stamped using Brilliance Moonlight White ink, and the 'True Love' sentiment was stamped using a stamp from the Making Memories 'Express It' stamp set and Marvy Matchables Turquoise dye ink, and overwritten with a clear Stardust pen.
A patterned paper from the Dovecraft Christmas Blues designer paper pack was also cut and both pieces were layered up with the stamped vellum and a piece of teal cardstock. A length of white lace was attached across this using small white Papermania brads, and the heart panel was attached over the lace.
Turquoise Papermania adhesive pearls were then added to the heart image, and to the stamped corners.