I've been doing a bit if blog surfing (or, as
Tara
calls it, blurfing) and come across a few blogs that are giving away some blog candy.
The first is on
Susan's blog
. She is celebrating the 200,000 hit on her blog and is offering some alota stamps. I'd also recommend that you head over and check out her blog if you are interested in mastering Inkscape and SCAL. Susan seems to be a bit of a whizz where that's concerned.
She will do the draw on the 16th October.
The second is over at
Silly Monkey's blog
. They are celebrating a number of things - new DT members, some birthdays, some lovely new stock and their 100th blog post.
This is open until 6pm (GMT) on the 15th October.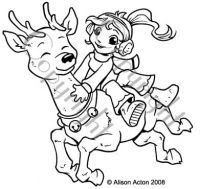 The third is over at
Donalda's blog
. She has one of the Whiff of Joy stamps as blog candy.
This will be drawn on the 18th October.
The fourth is over at
Lim's blog
. She has some amazing blog candy up for grabs. Lim is also after some tips on storing EZ Mounted stamps, but those are not necessary to win!
This is open until October 11th.
Just head over to their blogs and leave a comment.